Become a Friend of Joaquin Miller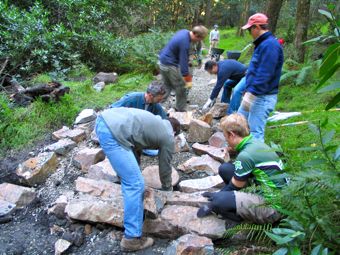 Park (FOJMP) and help support Oakland's jewel in the hills. Friends of Joaquin Miller Park includes hikers, mountain bikers, equestrians, dog owners, cross country runners, historians, writers, and neighbors, all dedicated to preserving and enhancing the rich natural legacy of this 500-acre park. It was originally the home of the late 19th-Century poet and environmentalist, Joaquin Miller, the "Poet of the Sierras." FOJMP is working to improve trail safety, signage and usability, restore the Joaquin Miller Abbey, enhance native understory in the redwoods, and to make other improvements that will enhance your enjoyment of the Park.
Prefer to pay by check? Download a Membership Brochure.
Membership Level
Individual
$25.00
Supporter
$50.00
Builder
$100.00
Advocate
$250.00
Master
$500.00
Lifetime
$1000.00
Sign up for information about FOJMP volunteer opportunities, resources, and events: