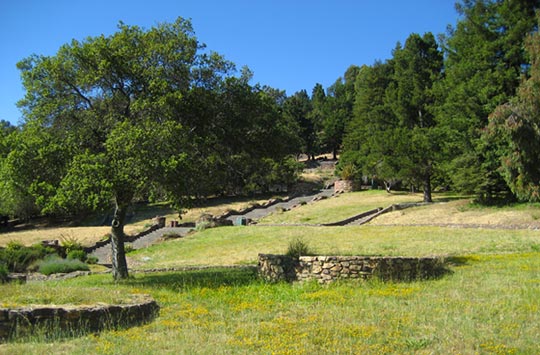 We are hikers, mountain bikers, equestrians, dog owners, cross country runners, historians, writers, and neighbors — all dedicated to maintaining, preserving and enhancing the rich natural legacy that was originally the home of the late 19th Century poet and environmentalist, Joaquin Miller.
Join the Friends today!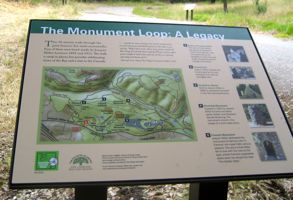 By joining Friends of Joaquin Miller Park (FOJMP), your donation is put directly into programs that improve Joaquin Miller Park for all its many users. Recent accomplishments include adding the off-leash dog area, rerouting eroding trails, creating a new trail map, and installing interpretive signs and directional trail markers.
FOJMP has a number of programs that might be of interest to you:
• Installing new trail signs
• Working to restore Joaquin Miller's Abbey, both the structure and grounds
• Restoration work at the Fern Ravine wetlands and nearby redwoods
• Improving the gates at the dog off-leash area
• Restoring the Sinawik Cabin site
• Continuing to improve trail safety and usability
• New entrance portal on Joaquin Miller Road
Come work with us on these and other projects to make the park more visitor-friendly and help improve trail safety.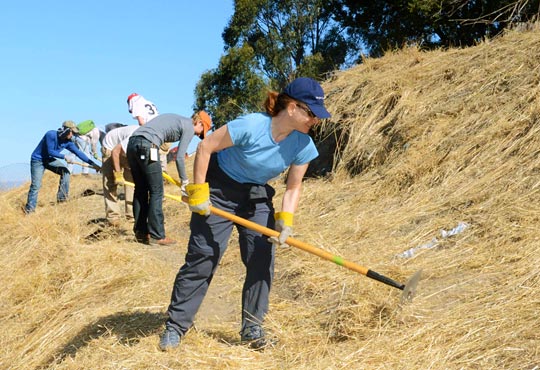 Board meetings of the Friends are held monthly, normally on the 2nd Monday, from 8:30 to 10 AM, at the Joaquin Miller Community Center. (We do on occasion switch up the dates, so check our Calendar for the next meeting.) The Board of Directors is composed of representatives of various stakeholders in the park, including hikers, cyclists, equestrians, dog owners, local homeowner groups and city staff. All meetings are open to the public, and we invite your participation. A public comment session is provided at the start of the meeting for anyone who would like to bring issues to the board.
Check the calendar for upcoming events, or drop us a note at info@fojmp.org if you have any questions. Once again, welcome, and we'll see you on the trail, at the dog run, in the theater, or volunteering on a restoration project.