Three opportunities for a Martin Luther King Jr. Day of Service in Joaquin Miller Park
Volunteers can just show up on Monday, January 20, or register in advance at OaklandMLK.org. Find the map for the following work areas on www.fojmp.org and details for all three sites at www.OaklandMLK.org.
Cascade Restoration: 9:00 a.m.-12:00 p.m. 3232 Joaquin Miller Road, about 1?4 mile up the hill from the Woodminster Market and Highway 13
Volunteers will add mulch to the large flower beds around the perimeter of the oval pond, the Reflecting Pool, and weed and clean up other areas around the Cascade. Last year, 85 volunteers showed up.
More details on Friends of the Woodminster Cascade website, www.woodminstercascade.org or in the newsletter found HERE! Contact: Catrina Vrankovich
Fern Ravine: 9:00 a.m.-12:00 a.m. Directions: At the Sequoia Arena Gate (entrance on Skyline Blvd across from the Redwood Bowl staging area) walk down the trail to the picnic area.
Crews will protect and improve restoration areas by removing non-native plants and reducing the fire fuel load along Skyline Boulevard and in Fern Ravine More Details on http://www.sausalcreek.org/event- calendar Contact: Jay Cassini, Friends of Sausal Creek
Ranger Station + two nearby outdoor sites: 10:00 a.m-2:00 p.m.- 3590 Sanborn Drive
Phase 1 of the proposed new use of the Ranger Station includes deep cleaning of the walls, windows, floors, and educational displays, organic debris removal from the decks, bathroom painting plus leaf and pine needle raking and debris removal at two nearby outdoor sites, one to be a future picnic area. Contact: Linda Brown, California Writers Club, Berkeley Branch, www.berkeley-cwc.org
For all sites, please bring your own water bottle and gardening or heavy-duty work gloves and wear old clothes that will likely get dirty or paint stained: long sleeves, pants, and sturdy shoes recommended .
Look for the on-site coordinator who will be wearing a neon-yellow vest. The City of Oakland supports this National Day of Service by committing staff to plan and coordinate with volunteer groups and by supplying hand tools. The City requires a brief safety orientation and your signature on a waiver for each adult and a parental release for children under 18.
The Friends of Joaquin Miller Park formed in 2010 after a February 2009 Stewardship Planning Workshop. Today the FoJMP operates as a 501 (c) 3 under the fiscal sponsorship of the Oakland Parks and Recreation Foundation, EIN # 94-2751052. Learn more about the stakeholder groups and the Friends' work on Park maintenance, capital improvements, and creative activities on the website.
P.O. Box 2768, Oakland, CA 94602 info@fojmp.org Google Phone: 510-473-6567
# # # #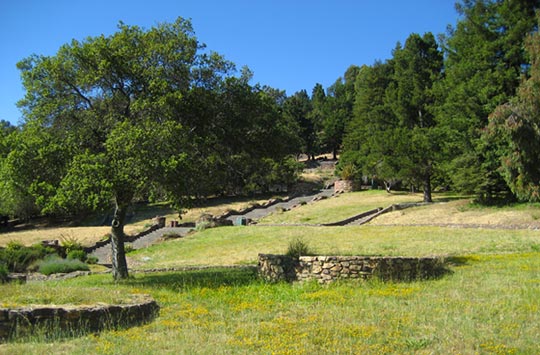 We are hikers, mountain bikers, equestrians, dog owners, cross country runners, historians, writers, and neighbors — all dedicated to maintaining, preserving and enhancing the rich natural legacy that was originally the home of the late 19th Century poet and environmentalist, Joaquin Miller.
Join the Friends today!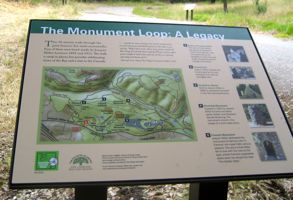 By joining Friends of Joaquin Miller Park (FOJMP), your donation is put directly into programs that improve 500-acre Joaquin Miller Park for all its many users. Recent accomplishments include adding the off-leash dog area, rerouting eroding trails, creating a new trail map, and installing interpretive signs and directional trail markers.
FOJMP has a number of programs that might be of interest to you:
• Working to maintain Joaquin Miller's Abbey & restore the Woodminster Cascade
• Restoration work at the Fern Ravine wetlands and nearby redwoods
• Improving the gates at the dog off-leash area
• Continuing to improve trail safety, usability by installing trail signs
• New entrance portal on Joaquin Miller Road
Come work with us on these and other projects to make the park more visitor-friendly and help improve trail safety.
Once again, welcome, and we'll see you on the trail, at the dog run, in the theater, or volunteering on a restoration project!